August 29, 2013 Rosie's Surgery Day (pics)
August 29, 2013 11:45 AM
Update #1 Just spoke with the vet. Rosie is incubated and they are going to do a CT scan. We can't put her through this again, so they are making sure they know where all of the possible culprits are and if she can handle the sedation long enough, they will remove them all on that side.
Here she is this morning with her robe and her bag with her food, plate, her vitamins and an extra blanket.
I'll post as soon as I get an update.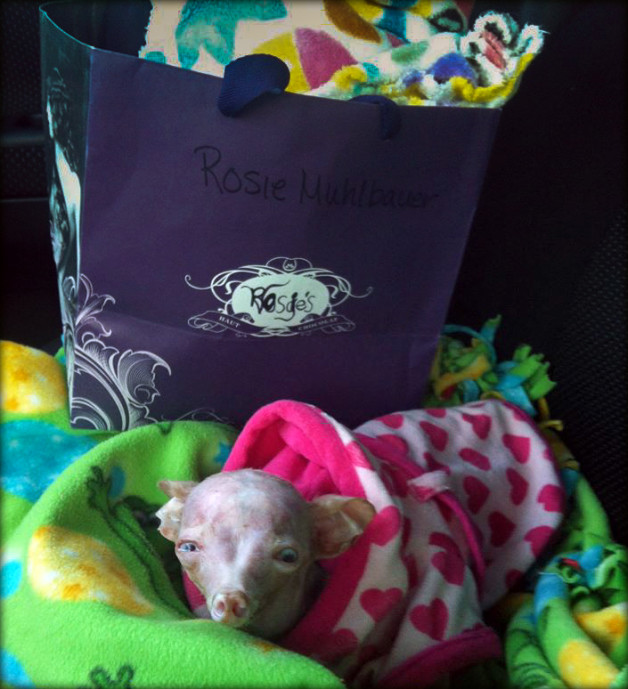 August 29, 2013 12:44 PM
Update #2 the CT scan showed no masses or any other issues than the salivary glands. Surgery has begun.
August 29, 2013 2:48 PM
Update #3 She's out of surgery!!! Dr. Lo removed the mandibular gland and most of the sub-mandibular gland. She is in recovery, she's awake and being closely watched. She's on sedation and fluids for the next several hours. They want her quiet and calm so she doesn't get nauseate from the sedation so I can't see her just yet. Hopefully I will be able to see her tonight. I miss her!!!
August 29, 2013 6:52 PM
Update #4 I spoke with the nurse and Rosie is alert and being nosy. She is supervising from the confines of a crate in the corner of the surgery area. They want her to pee on her own and take a tiny bit of food tonight before we can even discuss when she gets discharged. And I need to stay away tonight so I don't get her excited. I can call all night and check on her – and you can bet I will – but I won't get to see her until tomorrow. The nurse promised to take a photo and send to me, I will post it when it arrives.
August 29, 2013 7:53 PM
According to Nurse Laura, Rosie is "cozy in her blanket nest! She's doing great and can't wait to see you. Let her many adoring fans know she is a total trooper and being pampered here. "
Happy to see a photo but wish I could hold her! Thank you Nurse Laura 🙂