Everything Rosie – the little lady's legacy so far!
I've decided not to write anything depressing this week. Instead, I am going to share something positive.
Many of you buy things from Rosie's Zazzle store. As I've said before, we don't make much money from the sale – it's about 10% – but the funds add up. And, there are people who send donations hoping I will continue rescuing hoarding victims or dogs from backyard breeders.
These funds have made possible the rescue of 4 dogs from a hoarding situation in Los Angeles – Taco, Zelda, Zandra and the newest one, Spot. These funds will underwrite the medical care for Dame Judi, a tiny little lady from Bakersfield. And those funds underwrote a couple of tanks of gas for me (and the lovely Jill Gasparac) to transport a car full (and I do mean a car full) of dogs rescued from certain death in the desert to a rescue in Merced – that's a round-trip drive of over 600 miles!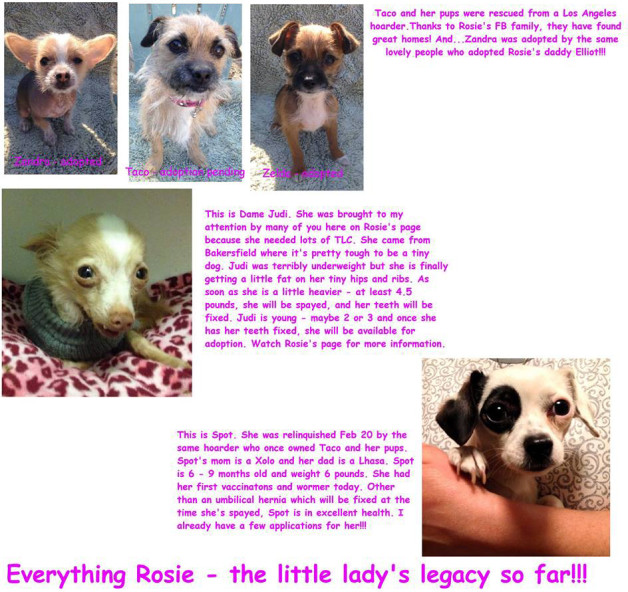 Because of Rosie, I've been able to personally help over a dozen dogs. Because of Rosie, I get emails every day from people who have adopted a dog in her honor, volunteered at a shelter or done something wonderful for a needy animal.
When she passed away, I promised Rosie that I would keep her memory alive by helping others like her to live. Thanks to all of you, I'm doing it – we're doing it!!! Thank you.
Xxoo,
Cinnamon