March 12, 2015 – Everything Rosie sculpture by Nikki Frahm
Sculptor Nikki Frahm was contacted by one of Rosie's friends who commissioned a Rosie figurine as a gift to me. I was given my choice of capturing her in any pose I desired and I chose to have her in her beach pose.
That particular day was so special for Rosie and for me. It was the first day that she ever walked on the sand – she chose to do it, I didn't push or coax her. It was the first time she chose to taste it – phooey was her reaction – but she looked at me like Ha!!! I did it!!! And I knew she was so utterly happy and proud of herself I wanted to cry.
When I received the figurine I knew immediately where she needed to be. Some of you will recognize her stroller. Yes, it is still in the corner of my bedroom. Yes, her ashes are in there with her sunglasses, her collars, little remembrances from friends, her pillow, some of her beautiful Love Flower toys and her favorite green sweater. I know that some of you think I am crazy but if I squint and block out the little wooden urn, all I see are her favorite things ready and waiting for her. It gives me hope that someday we will sit on the beach again together staring at the ocean, we will stroll through her favorite park or have a coffee with our friends once more. I find that is far easier to handle than the reality.
I cannot tell you how beautiful this Rosie figurine is in person. I hope the photos here and on the artist's page: Nikki's Clayations will give you a good idea. If you visit that link you can see the photos of Rosie that were used as a template for the figurine or below in this post.
Thank you to the wonderful person who gifted me with this remembrance of Rosie. Thank you Nikki for your talent at bringing to life my beautiful girl. Thank you Beverly Gentz for connecting the dots to make this happen.
I wish all of you the peace I felt with my Rosie.
xxoo,
Cinnamon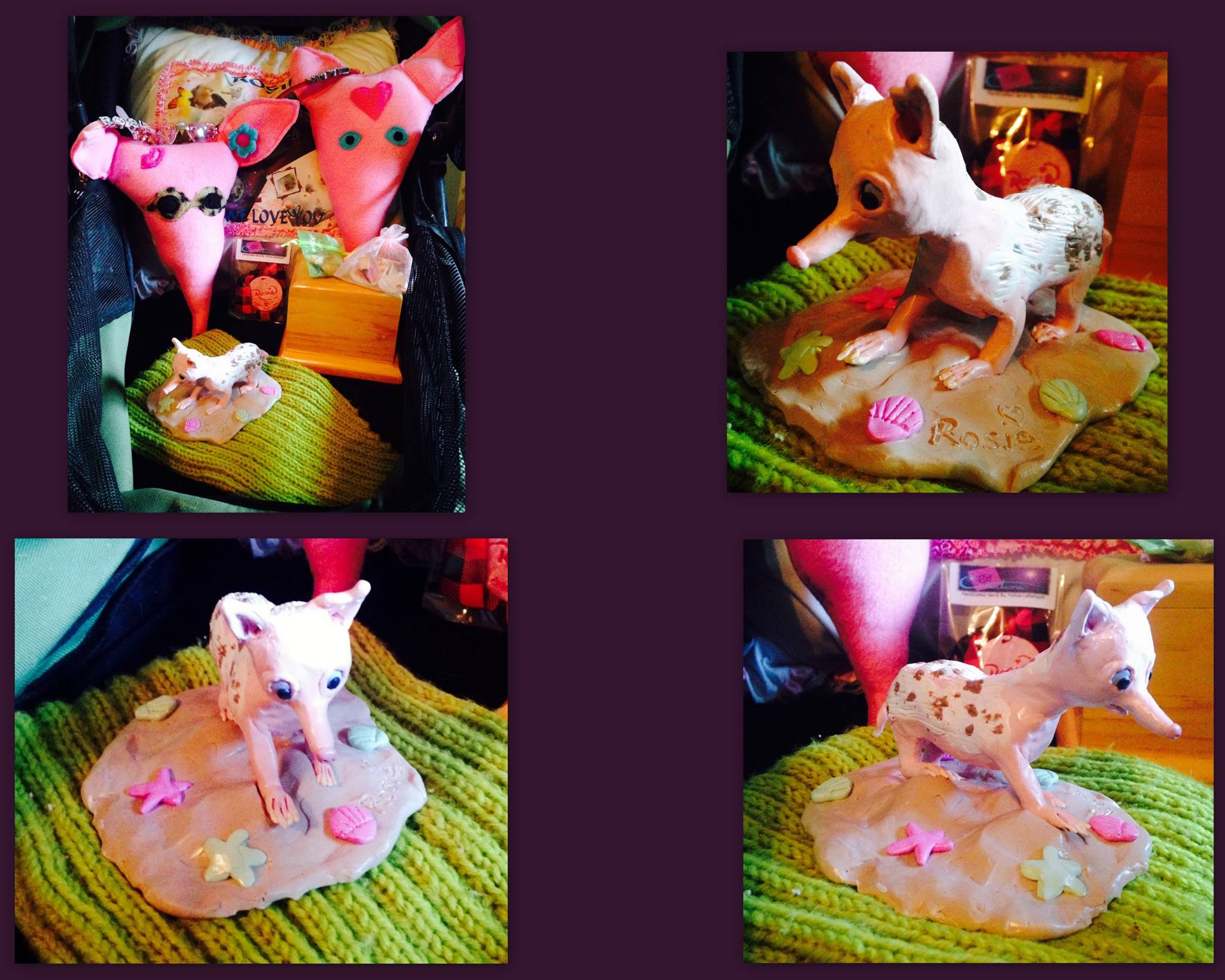 Visit Nikki's Clayations store on Etsy
Follow Nikki's Clayations on Facebook