Nov 22, 2013 – 6 weeks since Rosie passed away
Thursday marked week six and although I am not at peace with losing Rosie so soon, I realized I cannot spend every Thursday for the rest of my life looking at her photos and willing it to be a bad dream.
I went to dinner with a friend and for nearly four hours we talked about Rosie, we laughed and we tried hard not to cry but there were times the tears rolled down our cheeks and we hoped the other diners weren't noticing. We talked about loss, grief that consumes your entire being, how to move forward when it seems impossible and pointless. It was the kind of conversation one has with someone you've know for many years where thoughts and feelings can be shared without reservation.
It was an unusual conversation because the friend I dined with is someone I met because of Rosie. When she was here on business last year, Rosie and I had dinner with her and we've stayed in touch ever since. I am really pleased to have her as a friend and I have Rosie to thank for that blessing – my tiny girl attracted so very much love, she shared her bounty with me.
While we were dining, I noticed the man at the table next to us glance over every once in awhile and actually felt sorry for him – he had a choice of listening to our mournful conversation or the boisterous cheering of the large party on the other side of us. Imagine our surprise when we asked for the check and the server told us the gentleman who'd been at the table next to us picked up our check!!! We were so shocked and so touched, we were both teary-eyed. I can't help but think Rosie had a hand in that…
The drive home was tough, coming home and looking her pictures, wanting to hold her and tell her about dinner…well, I've been crying since I got home. The pain I feel is physical and sharp.
I'm sharing this picture because it's a favorite of mine. I took it to address the many comments from folks saying Rosie resembled a piglet. When she received that toy, she inspected it carefully and when I showed her it squeaked, she was delighted.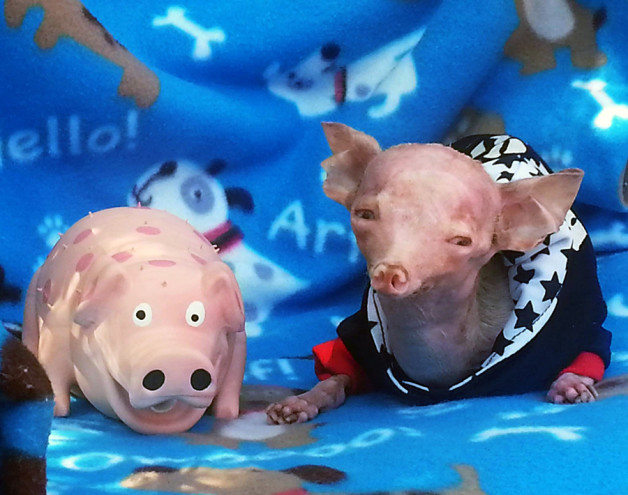 Her happiness and her gratitude shine here. I can't say I am happy, but I am grateful for having had Rosie in my life – she continues to work magic.
Peace,
Cinnamon