Nov 7, 2013 One month since Rosie passed away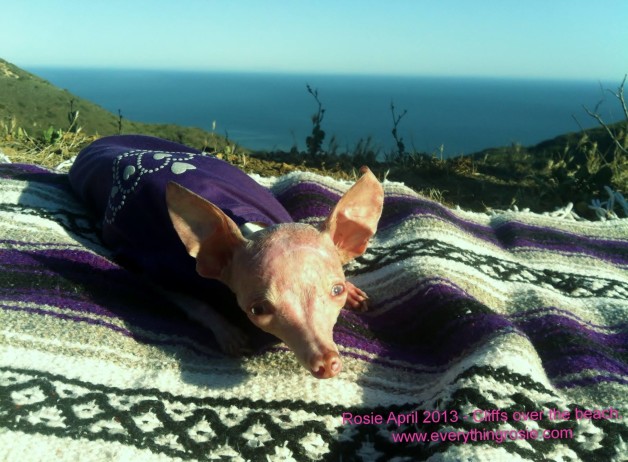 If you are counting weeks, it's week four, if you are counting months, Sunday the 10th will be one month. If you count minutes like I do, it's close to 40,320 minutes. It's my version of hell…
Wednesday night, I ran a particular errand for the first time since Rosie passed. I took the wrong freeway exit and got lost. I was so frazzled, I realized I hadn't eaten anything other than peanut butter cups from Trader Joe's in two days so I stopped at Veggie Grill to get a salad. No Rosie in my purse, no Rosie to run home to, I ate at a table alone. There was a woman at the table next to me with her toddler daughter. The woman was chattering away and her little girl was listening intently, very much unlike children that age usually do. And, I felt weak and sick because that was an image of me and Rosie…I chattered away to her and she always listened. She stared in my face as if she understood all my ramblings about ditzy friends, plans for the next day…she really seemed to care, just like that toddler. If I chatter to my other dogs, they give me a look to say "is this conversation going to conclude with some kind of treat…if not, I'll go back to my nap…" I miss talking to her. I miss her looking at me the way she looks at me in this photo. I have tons of friends and I have never felt so alone.
It's been really hard to open the closet to get dressed. Rosie's little clothes – the beautiful dresses, hand knit sweaters, crocheted blankets, her toys had their own side in the closet. Over the last two weeks, I have been carefully sorting and packing things to give to some of the dogs rescued through and/or by Rosie's friends here. Today, I wrapped her custom-made dresses and sweaters in tissue paper and placed them in a storage box along with the blankets embroidered with her name, her little sun hat, her sunglasses and her leg protectors. In the corner of the bedroom, I set up a table with the paintings and drawings of her, the cards and letters we've received, the lovely scrapbook Kim Hill made her, and her lovely collars. Her urn – draped in her little green sweater – is in her stroller along with her pawprint plaque, her favorite blanket, and some of her toys. There is a little vase of flowers (fresh lavender today) in there too.
Sunday, I am gathering with friends and family who knew Rosie along with some of Rosie's relatives and doggy friends at a dog-friendly restaurant. It will be a small group of people who fully expect and will tolerate me being a soggy incoherent mess.
I am incredibly touched by the memorials planned for this weekend. I look forward to seeing the photos of people celebrating her life and focusing on the good we can do moving forward. In the next week or so, we will be establishing an Everything Rosie fund to raise money for special needs and senior dogs. We are in the process of setting up a 501c3 as well and I am going to do something about a book too. The dream I used to discuss with Rosie – a fund to help other dogs like her get into loving homes – has to happen, it's the least I can do to keep her memory and spirit alive.
Thank you again for the lovely cards, letters, emails, and mementos and especially thank you for loving Rosie as I do and always will.
xxoo, Cinnamon