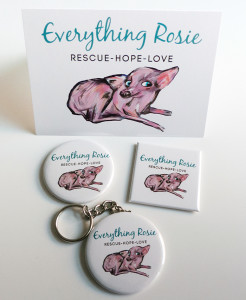 Welcome to Everything Rosie's Store!
By sharing Rosie's image with your friends via a tee shirt, a bumper sticker, or any of the available items, you are also sharing her message of Rescue – Hope – Love!
Please Rescue an animal from a shelter rather than buying one from a pet store. You may be that animal's only chance at life!
Give Hope to an abandoned or abused animal by supporting your local rescues and shelters. Foster a dog like Rosie or a frightened senior who doesn't deserve to spend his/her last days cold and alone in a concrete pen.
Spread Love by volunteering to cuddle or walk shelter pets! This is ideal if you live where you can't have animals or are on a budget – it's free for you but the joy you bring to that lonely animal is golden!
The beautiful cartoon that completely captures Rosie's love of life was designed and donated by Lee McRoberts.
The beautiful "Everything's Comin' Up Rosie" design is a very special painting of Everything Rosie by Janet O'Neil.
The adorable Rosie sketch was designed and donated by Dog-Atar Productions.
Photography donated by Photographers, Evelien Lupo and Paula Hsien.
Rosie's adorable logo drawing was designed and donated by Cara Bean.
Other graphics and web help donated by Rosie's online helper, Lisa Murphy.
International Rosie Zazzle Stores