The American Dog Magazine – Summer 2013 "BEAUTIFUL EYES" Contest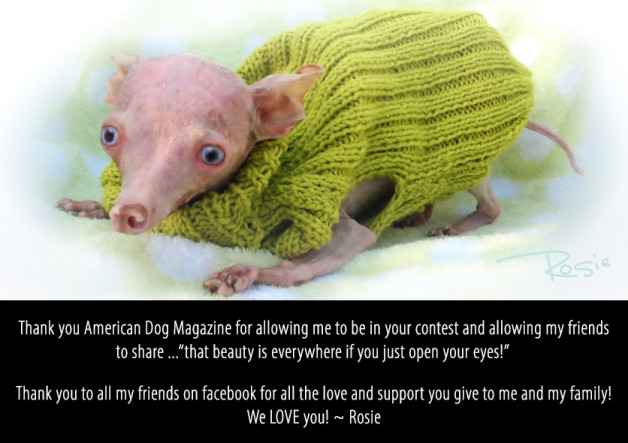 Congratulations to all the doggies, we're all winners! And thank you friends for voting for me! ♥ ~ Rosie
American Dog Magazine announced WINNERS #1- #10 in ADM's "BEAUTIFUL EYES" Contest!!
Congrats to: Elle the Pit Bull, Everything Rosie, Juno's Place, Harley, Twinki Gurl, Noodle The Disabled Dachshund, Emma E. Noe, Willow's Tails, Misfit the blind dog and Wilma!!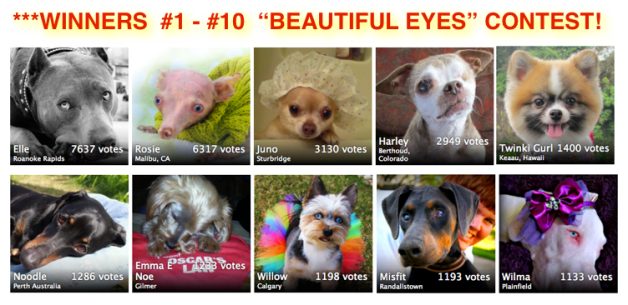 American Dog Magazine's 2ND ANNUAL "BEAUTIFUL EYES" CONTEST took place on Monday, June 10th 2013 through Monday, June 17th, 2013.
PRIZES: WINNERS #1 – #10 – with the most votes won a  CUSTOM PET PORTRAIT OF THEIR DOG (11X14) BY THE FABULOUS ARTWORK OF BRITTANY FARINA.
Visit the fabulous artwork of Brittany Farina
FB: www.facebook.com/BrittanyFarina01
Website: www.brittanyfarina.com
Not only did Rosie won 2nd place, American Dog Magazine said…
***WE CHOSE SIX WINNERS to receive a FULL PAGE FEATURE!!

**CONGRATULATIONS TO WINNER #1- Everything Rosie!!

You have been chosen by American Dog Magazine to receive a FULL PAGE FEATURE in the SUMMER 2013 ISSUE!!
To get your Summer 2013 American Dog Magazine issue, visit their website to get your copy!! www.theamericandogmag.com
And don't forget to follow them on facebook! www.facebook.com/americandogmag