You can't forget someone who is a part of your heart. We are all better because Everything Rosie was in the world. One week ago, we lost her, but we'll never lose her message. We miss you so much, but we forge ahead with you in our hearts. Forever! – Sarah Sypniewski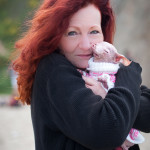 Date of Birth February 14, 2010 – Date of Rest October 10, 2013
Rosie's memorial: Forever In Our Hearts, Everything Rosie
Rosie…the luckiest Chihuahua in the world even though she had just about every congenital defect one dog could have – her vision poor, her immune system compromised, she had scoliosis, fused leg bones, and her jaw…well, her jaw was shockingly malformed, her teeth crooked, the list goes on. Why was she lucky…
SHE IS LOVED!
When Rosie was rescued (along with her brother Groby and relative GoGo) there were several pregnant Chihuahuas. No vet care was ever provided to any of these dogs! The living conditions were deplorable and it is a miracle that any dog – especially one as frail as Rosie – survived there at all. But survive is what she did which is a testament to her spirit. View some of Rosie's videos here!
A poem for Rosie by Ed VilleLin
Such strength in You to have been through much.
We see who you Are, much love with one touch.
Erase everything The past did to you.
Each new day is Reason that new life is in view.
Totally can't bear Why people are so cruel.
Raised absent of Love, this beautiful jewel.
Only one showing Will to give you what you need,
She will love you Always, through her you are freed.
In my world, we Surround you with much love and care.
Equal faith can aid Us all, A prayer we will share.
The first letter in each line spells out Sweet Rosie, and if you start with the word "You" in the first line and read down, it says You Are The Reason Why Love Will Always Surround Us. ~ Ed VilleLin