More Friends: Furry Wishes • Going Green/Pink Wishes • Birthday & Valentine Wishes • Christmas Wishes
Rosie's Facebook Friends and their Rescue Stories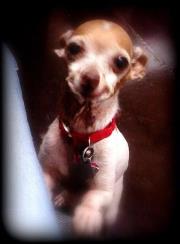 Meet Miss Trixie – Follow Trixie on Facebook!
After living 10-12 yrs. of severe neglect and abuse Trixie got a second chance at the good life. Wandering the streets flea infested, skin and bones, bleeding, severe skin issues, nails so long she couldn't walk without crying. Like so many unwanted dogs life hasn't been easy for this smiling angel. Her jaw has been broken in 3 places and never fixed. Trixie was used for breeding by someone who feed her "when he remembered" … most of her meals were found in the garbage bags that covered the front lawn.
April 8, 2012 was the day Kristen Vilardi "rescued" this little senior girl and the day the battle started for her to live a happy, healthy, long life. The battle continued but Trixie had Kristen and a whole community fighting along side her…with no intention of losing.
On October 7, 2012 Trixie put up a good fight but she just couldn't fight anymore. She passed. We need to unite in Trixie's memory and in writing the new chapters of Rosie's story and stop the practice of breeding for greed. We need to get dogs like Trixie and Rosie into loving homes and out of the darkness and neglect. All our love to Kristen, Phil and our heart to Trixie!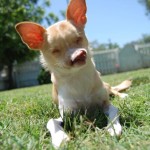 Meet Bunny the Miracle Puppy – Follow Bunny on Facebook!
Bunny was born on 09/26/2012 with a primary cleft palate, and without eyes. But she doesn't let this stop her! Bunny was born to a South Central LA rescue named Mima. Mima was too ill and emaciated to produce milk for the puppies, so Bunny and her two siblings were bottle fed from the day they were born every 2-3 hours. One of Bunny's siblings did not survive, but the other, a perfectly healthy puppy named Piggly Wiggly was adopted. Bunny currently resides in CA with Pulling for Paws rescue as a permanent resident receiving all of the medical help she needs!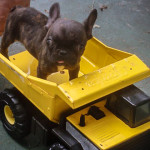 Meet Tiny Tim – Follow Tiny Tim on Facebook!
This is one of my new friends on FB. His name is Tiny Tim and he struggles every day with eating and his diagnosis is very bad. Born May 4, 2009, Cleft Palate Puppy Survivor (non-surgical) due to other health issues. He is a special needs French Bulldog Sharing Love, information, and inspiration to help others. Please say prayers for my tiny friend or give him a shout. He's a special little guy!
On August 18, 2013 It is with great sadness we share this update on Tiny Tim. We will always cherish those photos and videos of this beautiful soul. Love to his family xoxo. Rest in Peace and be with the angels little friend!!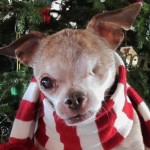 Meet Harley – Follow Harley on Facebook!
I was born in a horrible puppy mill. I started out a cute little brindle colored Chihuahua pup, but in a very short time I was pretty grungy, I suppose I looked the color of dirt. I had my own wire cage to live it, it was small, the wire floor made my feet hurt, but I got used to it. I didn't wish for a bed, a toy, a bone or even clean water, I didn't know what those things were. Humans were my enemy, never a kind word, never a loving hand – actually, come to think of it, I didn't know what those things were either. My job was to help make babies – not sure how many kids I have out there, maybe hundreds, thousands?
The years all ran together, nothing ever changed, I got older, more crippled and then the cough started. Turns out I was in heart failure. The puppy mill people didn't want me anymore, they considered tossing me in the dumpster, as is, still breathing… but I was lucky because a wonderful rescue called, "Because of You Chihuahua Rescue" took me away.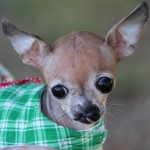 Meet Emma Cleft Palate Chihuahua – Follow Emma on Facebook!
Emma is a tiny Chihuahua born in 2008 with a cleft palate, cleft lip and craniofacial deformities. She turned 4 years old on August 4th 2012 and is approximately 30 ounces in weight. Emma was rescued at 17 hours old – tube fed for the first 9 months of her life – has endured 6 surgeries (all, for the most part, to no avail) – and her skull is still wide open in many areas, leaving nothing between her tiny brain and the world but a paper thin layer of skin. She doesn't "live the life of a dog" – because the world is just much too dangerous for her – but she is a brilliant, sweet spirited, blissfully content little girl ~ and the light of our lives!!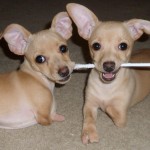 Meet Ellie May and Madi – Ellie May and Madi on Facebook!
These darling little special chi pups, Ellie May and Madi were born on Valentine's Day 2012, both with front limb deformities. Rescued in early March, they are thriving, happy and healthy. They are precious active little puppies who brighten everyone's day with their silly antics! Ellie May recently received her wheelchair from a generous donation from Team London Scholarship (as their first scholarship recipients) and Madi will be getting a prosthetic in Nov. They are training to be therapy dogs and are ready to brighten the world, one smile at a time! These special girls show everyone who meets them that different is just beautiful!

Meet Damon, The Nutter Butter Rescue Yorkie – Follow Damon on Facebook!
I was founds as a stray in 2011 and was brought to the Humane Society of Broward County where my mommy, Jennifer Stier saw my picture online.  I was so small and skinny – only weighing about 4 to 4 1/2 pounds and I had a scary scar on my back, but I was so happy to meet Mommy that when she picked me up I gave her a kiss right then and there and Mommy said she fell in loves instantly wif me. I founds my furever home, so I gotta try and makes sure I can helps as many others as possible find theirs too, cuz every animal out dere deserves lots of loves. ♥

Meet Snow White – Follow Snow White on Facebook!
Snow White, has lost 3/4 of her lower jaw and her hind right leg to cancer. Snow White is a ridiculously sweet 6 year-old who came into the city shelter, in February 2012, when her owner was charged with animal cruelty and neglect. She sat in her cage for 3 months, as evidence, until the courts determined she would be taken away from her owner permanently. Safe Humane Chicago's Court Case Dog Program employees met Snow White in May of 2012 and immediately began seeking rescue for her. She had a huge tumor on her jaw, which they knew to be cancerous and certainly painful and a questionable tumor on her thigh. A cage was no life for this adorably sweet girl. Friends of Chicago Animal Care and Control stepped up to the plate and took this girl into their foster program a few weeks later.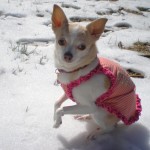 Meet Little Roo was dropped off at the shelter when she was only 6 weeks old by a breeder that couldn't sell her. Both of her front legs are fused much like Rosie's (Rosie walks like Little Roo). So I took her home to foster her and of course we couldn't give her up, we fell in love with her. Special needs animals bring such a joy to your life. Little Roo is a Certified Therapy Dog and a Reading Assistance dog for children. Roo goes to schools, hospitals, and special events. Educating people about special needs animals is an important thing to do to show they are wonderful companions and best friends just as much as other animals. I have had many people come up and ask questions about Roo and say "she's special like me" with a smile. Its about the smiles she brings to children, Veterans, and its about making that "special needs" human feel good. Thank you Cinnamon and Rosie is an inspiration for many others to come.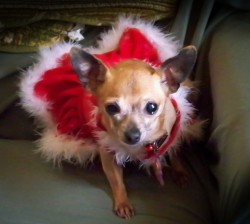 Meet Jasmine. One of Rosie's beautiful little FB pals passed away Monday night (January 14, 2013). She was an abuse survivor who went on to become a humane education partner. What a beautiful little soul the world has lost. Our condolences to DeeAnn!
From DeeAnn "This is my Jasmine, who passed in her sleep Monday night. She was what I call my heart dog. Almost 5 years ago at age 10 she came into the shelter I work at broken and bruised. She couldn't walk, she had been horribly treated. However, she loved people and became my humane education partner. We went to school after school, event after event and spoke of animal neglect and abuse. Her tired little body could just not go on any longer. My heart has a hole in it that will probably never close, but I am a better person for being owned by her."
More Friends: Furry Wishes • Going Green/Pink Wishes • Birthday & Valentine Wishes • Christmas Wishes